Due to the large photos, this page may load slowly !! Please standby !!

WWW.ILoveLBNY.Com

Long Beach, New York

Lifeguards

(and some Junior Lifeguards!)

If you have any individual or group lifeguard photos please scan them and email them to me so I can post them here.  If you can identify any of the faces even better!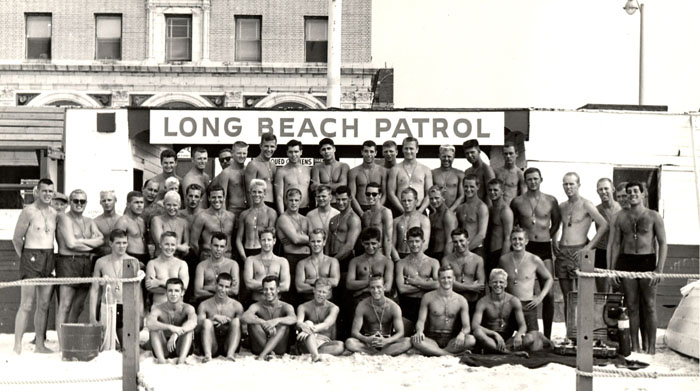 Jack Chitester, who is in possession of this original photo confirmed this is the 1960 Long Beach Lifeguard crew in front of the National Blvd. headquarters. (Hotel Nassau in the background)  The only guards identified are Ken Spooner, 3rd row from the front, just right of center with the sunglasses on, 3rd row far left is the head man, Dennis Kiely, 3rd row far right is Freddie Kahn, front row 4th from left is Lew Burger.  Top row, 3rd from right, Frank Ralph ?......Email me if you can identify any others or are sure of the year..

photo submitted by Ken Spooner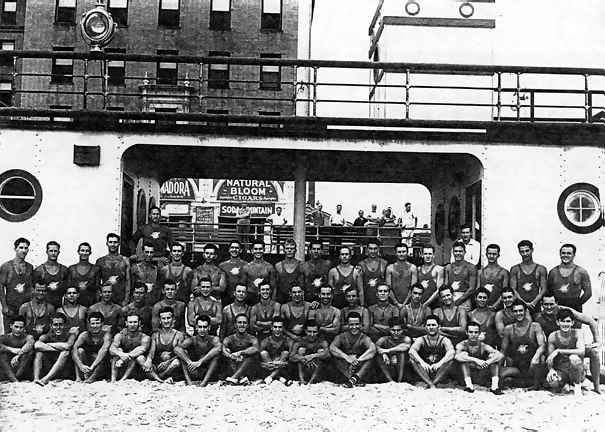 Mr. Greenspan senior was able to provide these names of the guards shown. Forgive the spelling if it's not correct.

top row from left:

#2: Mannie Roth

#3: Harvey Grapek

#4: Bernie Greenspan

#5: Richie Myers

#8: Abe Fleischer

#10: Dane Hermansen

#11: (Captain)Ozzie Schaefer

#12: (Chief) Herb Ostrow

#13: Marty Held

top row second from right: Al Liguori

middle row from left

#6: Abe Weinberg

#10 ArtieMoskowitz (later known as Arthur Morse)

bottom row from left

#2: Howie Varell

#10: Barney Lorie

The 1940 Long Beach Lifeguard crew.

Photo submitted by Bari Greenspan

The guard from the Lincoln Blvd stand with his girl in 1940.

photo submitted by Bari Greenspan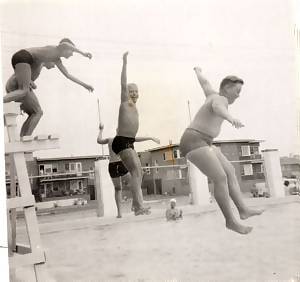 From Ken Spooner's days as a lifeguard at the old Municipal Pool on Lafayette Blvd and Broadway. Ken worked as a guard here from 1956-1962.  These are some of his junior guards !! What a great place this was, you could swim all day for 25 cents !!

photo by Ken Spooner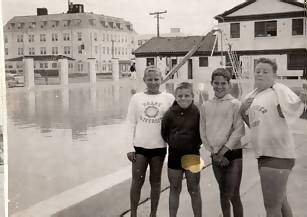 Ken S. said this should be captioned "The Unholy Four" !!  L-R The Horse, Little Cuteness, Glimpy and Moreham.  At the municipal pool on Lafayette Blvd.  Wonder if any of this crew graduated to ocean guards ??!! This probably around 1960.

photo by Ken Spooner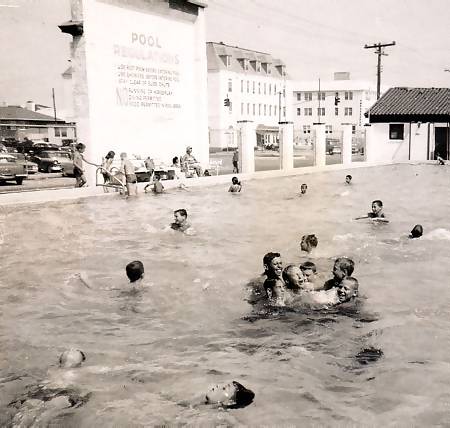 That's Lew Burger, Ken Spooner's partner and one of the senior guards , in a mock drowning drill at the pool !!

photo by Ken Spooner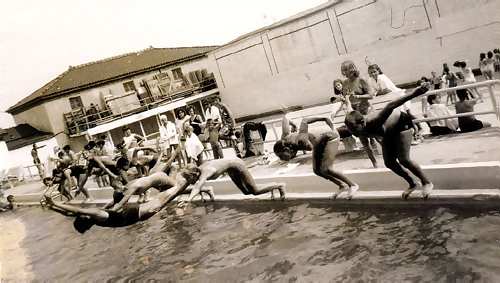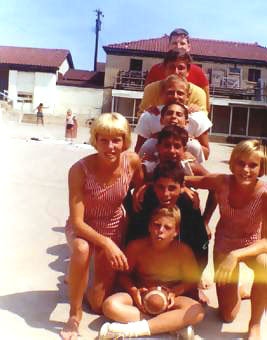 A little diving competition at the pool !!

photo by Ken Spooner

Some of the boys and girls of summer at the old Municipal Pool !!  The two girls pictured were the first female lifeguards in L.B. and worked at the Lafayette Pool as in those days women weren't permitted to patrol the beaches.. They were: left, Michelina "Mike" Spry and right, Lissa Keigwin.  The picture would be about 1967.

photo by Ken Spooner //   Identities supplied by Steve Brockman, L.B. Patrol 1968-1976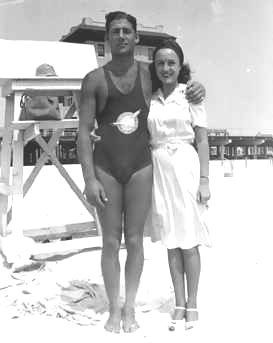 I got this today ( 2-2-01) a few more identities...3rd row. L-R Dennis Kiley, older man with hat is my father Joe Rutigliano, Ronnie Quinn,  next unknown, 5th from left is Joe Stella, 6th from left is Ronnie Quinn's brother

4th row  left, Moose Grodensky. This photo must have been taken between 1952-55.  Marie Rutiglian Nugent class of '53

(2-9-01) Some more ID's from Al Feinstein: Third from right standing is JJ McGowan...5th from right is John Daley Jr...10th from right is Al Feinstein... Al Feinstein seems to think this is a 1959 0r 60 photo also.

New photos or info added on: July 6, 2017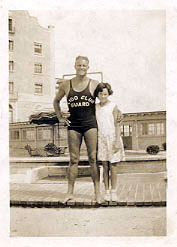 Bill Clark, lifeguard at the Lido Hotel with Middleton's daughter. Bob Foster was told the story that Middleton was the name of the Manager of the Lido (1928) and that his mother was the governess to Middleton's kids (he thinks there was a boy, also.)

photo by Bob Foster

( p.s. I think the year may have been a little later than 1928, as the Lido was still under construction at that time I believe.. cj )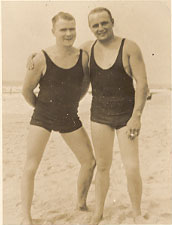 Long Beach Lifeguards Bob Lynch (L) and Stanley Foster (R) ( Bob's dad) in 1927.

Photo by Bob Foster

And a few more possible ID's. these from Maxine Tugendhaft Kline, Barbara Masur LaPenna and Brian Sullivan: Top row standing-R-L....#1 Rennie Leone, #4 Greg Finnan, #6 Bobby Dominico,  #9 Hugh Connolly, 2nd from left back row- Curt Monahan,3rd Stan Rosenblum, In front of Moose Grodensky- Joe  Stella,,  Standing-L - R.....#5 Marty Quinn,,  #8 Eddie Evans,,5th from right- ???? ,,Second row kneeling L-R.....#2 Peter Hession, # 3 Guy Corriero, #4 Al Withheiller (sp) #6 Louie Bono, #8 Arty Hymes, third row #2 from right Jim Kusack, kneeling #1 on right Vinny McCallis, crew capt., Front row seated L-R #2 ??  Austin , #3 Eddie Praeder (sp)    ///  Ted O'Neil identified these people-- top row, R/L , #4 is Greg Finnan.  #10 is Gene Marshal.  3rd row R/L 3rd is Ray LaRaja. 14th is Ted O'Neill.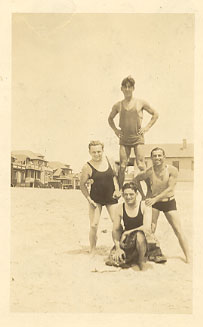 4 of LB's Lifeguards, circa 1924. The only one identified is Stanley Foster, bottom left.  Looks to be in the West End somewhere

photo from Bob Foster's collection




Additions to identities: Top row 5th from right Alan Lubow   3rd ROW STANDING 5th from right Walter Belling,  8th from right Dewey Fonte

9th from right Jack Chitester  12th from right Roy Coombs , 15th from right is Paul Sandler, 2nd row,kneeling 5th from left kneeling George Rebba (Not sure of last name spelling) Corrections: 5th from right to: 2nd row, 1st on left kneeling is John Daley Jr... Front row seated L-R #2 ?? Austin (Steve Austin)