Large photos.. please standby while they load.. thanks !

The 1956 Long Beach High School Track Team. 

Kneeling Left to Right (14 People)

    Bob Meschel, Richie Hartman, ?, Eddie McMullen, ?,  ?, Gene Marshall, Al Jacobson, Steve Gold, George Snow, Harvey Singer, Stan Greenspan, Barry Hornig, Albert Amoroso.

Standing Left to Right (36 People)

Alvin Goldman, ?, ?, ?, ?, Alan Lebow, Sol Barnett, Steve Austin, ?, Warren Hittelman, Jeff Robbins, ?, ?, Aaron Dharsa, ?, ?, ?, Robert Herman, Coach Irv Gold, ?, ?, ?, Bob Landau, Eddie Evans, Ronnie Gompers, Ralph Issacs, Albie Eisenbaum, ?, (?)Meyers, ?, ?, ?, (?)Meyers, ?, Bob Gordon, Mr. Friedman

Please email me if you can identify anyone else.  

Photo and most names submitted by Bob Gordon

Long Beach Sports Photos

If you have one please email it to me and I'll post it !!  New photos toward the bottom.  Some photos may be reached through a text link, as they are large files and more siuted to open in another window. Simply close that window to return after you view it ! Thanks.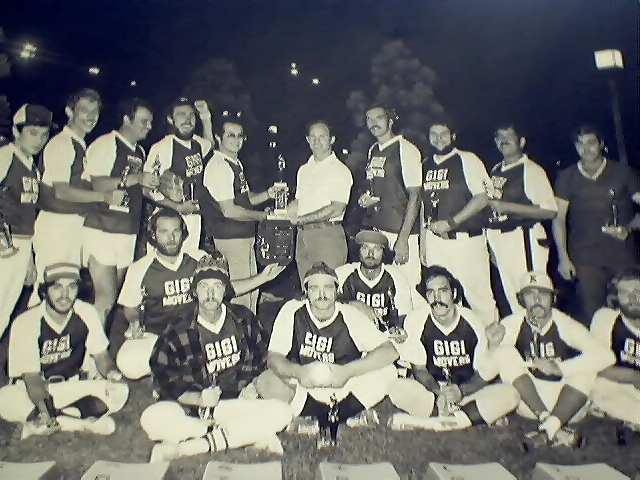 Gigi Movers, about 1975.  Apologies for mispelled names or missing ones, if anyone can fill in the blanks or correct the spelling email me ..

Top row from left--Mike Acevedo, John Zamrycki (J.Z.), Ricky Steckmaster, Dave Friedman (Fritz), Anthony Perreta (GiGi), Ralph Kaplan-he worked at rec--Kevin Miller, Kenny Lautman, Harvey White, John Abramson.

Bottom Row: George (the Munchkin) Talmadge, Steve Salina(Sal), Tony Kornheiser (T.K.), Eddie (Thurman) Good, Scott Spiritos, John Bella, Mike Huntstetter, Randy Buckovinsky (Bucky).

photo submitted by Stephanie Garrison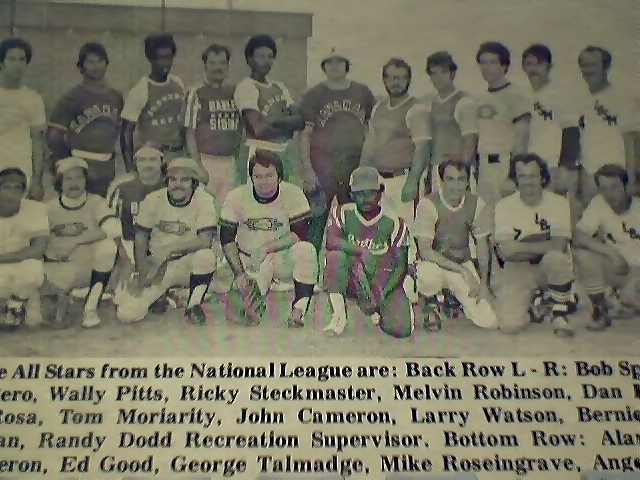 All Star team from the National League-Thursday, July 15, 1976--some of the names got cut off--I'll try to fill in. I'll only put names you can't see all of--

Back Row-L - R - Bob Sperling, Frank Nigero.........Dan Liamero, Tom

DeRosa........Bernie Haag, Louin Millan...........

Bottom Row-Alan Popper, Bob Cameron...............Angel Valle, Kenny Paganini, Kevin Llewellyn, Spiro Costa, Paul Rausch.          

photo submitted by Stephanie Garrison

The Lounge Champions of the rec center league, 1975.  This was a tough crew to go up against back then !!  This picture from the Nassau Star.

Photo submitted by Tommy Oliveri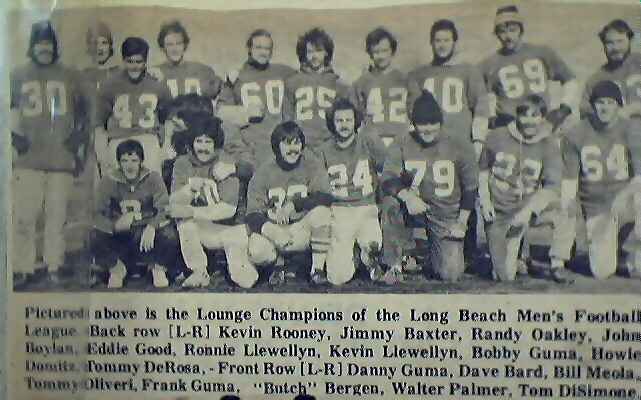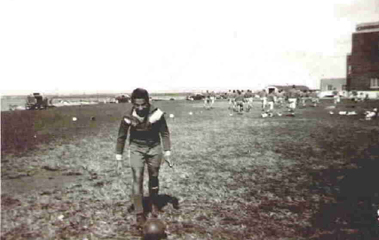 Circa 1954 Soccer and Football practice LBHS (Lindell Blvd).  Reynolds Channel in background. Bob Gordon pictured in foreground.

Photo taken by Sam Schwarzman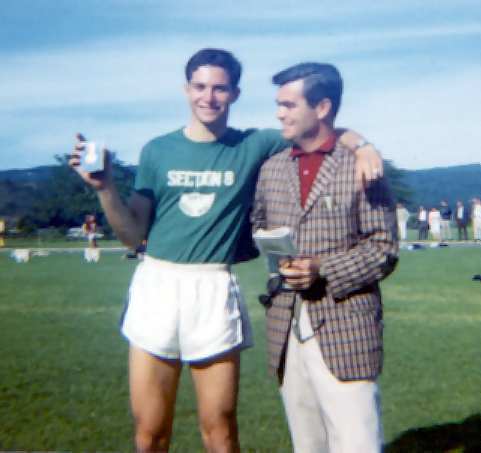 Here is a picture of Allen Berrie,  medal winner 220 yard dash at NYS Championships held at West Point 1967 with coach Bob Andrews

photo submitted by Bob Andrews


1961 LBHS Football Team

Kneeling (l-r) Gary Schwartz, Stan Davis, Bobby Barth, Harmon Stromberg, Ken Cohen, Jeff Frankel, Paul Kaufman,Marty Paschakes, Gerard Albert

Back Row (l-r) Coach Tony Piazza, Ronnie Weiss, Alex Gross, Eric Fass, Doug Anderson, Ron Perlman, Coach Bob Andrews

photo by Bob Andrews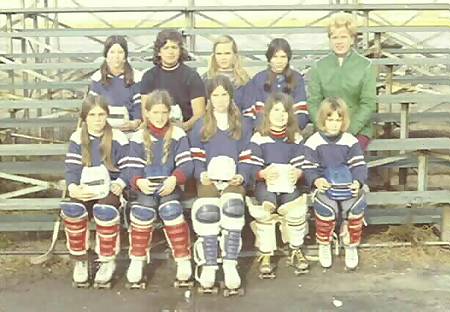 Here is a photo of a 1972 girls roller hockey team. It was the first girls hockey league in Long Beach.

In the photo are: Top Row: L-R: Terri Whittlesey, Michele Bifone, Leslie Rindfleisch., ???, Coach: Peggy Whittlesey. Bottom Row: L-R: Mary Fyfe, Tracy & her sister???, Valerie, ???

photo submitted by Mary Fyfe Kopecky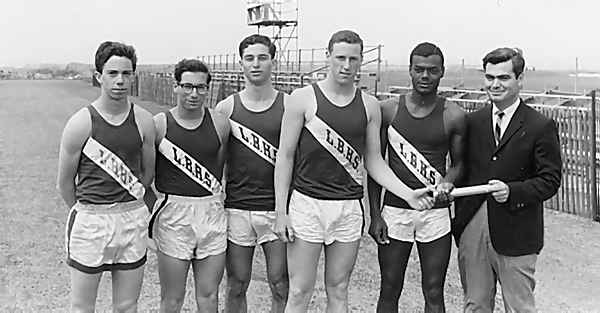 Undefeated Sprinters , 1966 & 1967, and 880 Yard relay Record Setters:

(L-R) Mike Klein, Ira Sarde, Allen Berrie,Jeff Berke, Nat Cohen & coach Bob Andrews.

With a time of 1.31.3 they set  both the County Record and the school record !

photo by Bob Andrews

New photos added on: July 15, 2006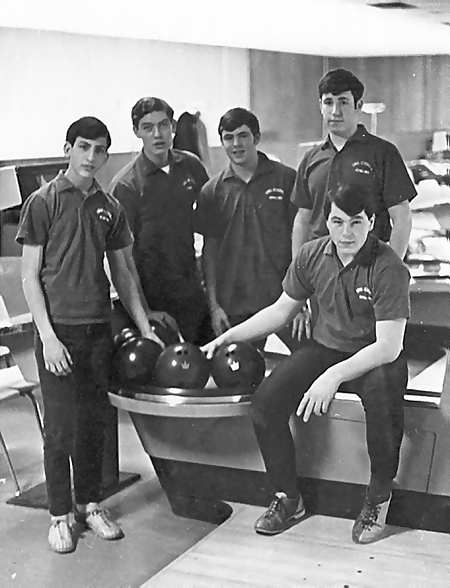 The 1967-68 LB Bowling Team; Division Champions, County Champions and 4th place finishers in State Tourney.

Standing (l-R) Rob Lusson, Bob McConnach,

Mitch Adler, Len Hirschorn (and Mike Tortora)

photo by Bob Andrews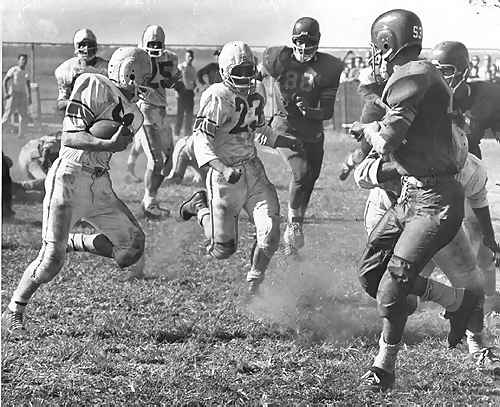 A LBHS player running with the ball in a game against Lawrence HS, 9/30/61 while Doug Anderson (23) leads the interference.   Lawrence won game 6-0.  Photo by Bob Andrews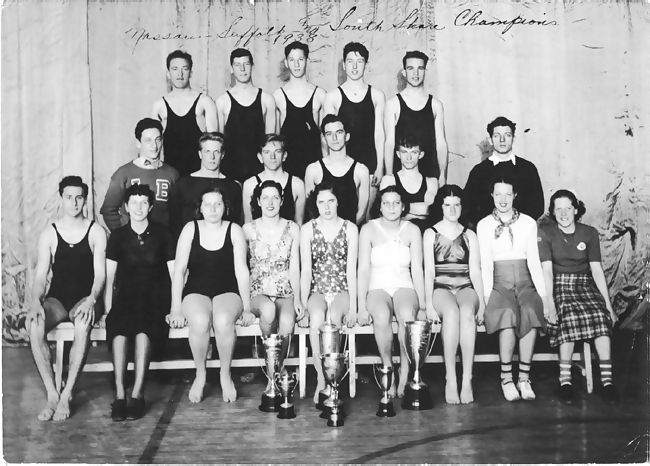 The 1938 Long Beach Swimming Team; South Shore, Nassau County & Long Island Champions.  Pictured:

Back Row (l-r)  (1)Wilber Sykes (2)??, (3) Bill Schwab, (4) ?? , (5) ??

Middle  (l-r) (4)Morty Blumenthal (6)Coach Sam Santay

Front (l-r) (3) Mary Valente (4)Dorothy Waldron

(5)Jeanne Waldron (6)Josephine Valente (7)Betty Blumenthal

photo by Bob Andrews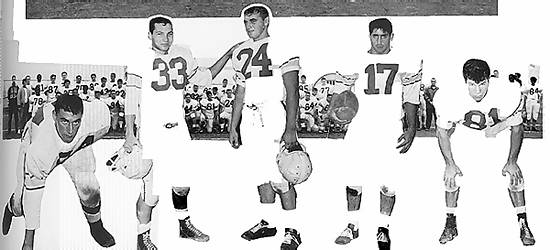 Some shots of players from 1962 team.

l-r  Jeff Frankel, Gary Schwartz, Gerard Albert (All County End), Ron Weiss & Harmon Stromberg

photo by Bob Andrews

submitted by Tom Brady, LBHS Class of "46

Use the INDEX page to access every page on the site !!
(written by and courtesy of Skip Robinson)